USB Wifi Dongle Adapter with Antenna (300Mbps, 802.11n)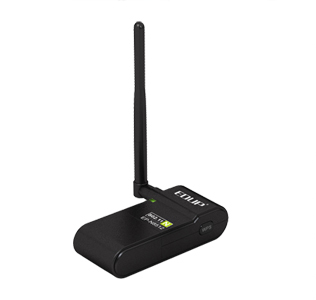 Description
USB Wifi Dongle Adapter with Antenna (300Mbps, 802.11n)
Brand: EDUP
Model Number: EP-MS8512

Specifications:
Data transfer rate of up to 300Mbps (downlink) and 300Mbps (uplink).
Standard: IEEE 802.11n, IEEE 802.11g, IEEE 802.11b, IEEE 802.11e.
External 5dBi Antenna providing even better wireless performance, transmission rates, stability and coverage.
Enhanced WEP and WPA wireless security for protected Internet access.
64-bit / 128-bit WEP (Wired Equivalent Privacy), TKIP, AES 2.400GHz ISM.
Frequency Band Modulation Method: QPSK / BPSK / 16-QAM / 64-QAM.
Operating distance of up to 300 feet indoor, and up to 900 feet in open space.
Support Network Protocol: CSMA/CA with ACK.
Transmission Mode: DSSS.
Supports USB 2.0 interface, backward compatible to USB 1.1 and 1.2.
Suitable for XP/ Vista / Windows 7/ MAC / Linux.
All drivers can be downloaded from www.szedup.com.
---